Ignite the revolution.
Patent-pending design changes heating from the inside out.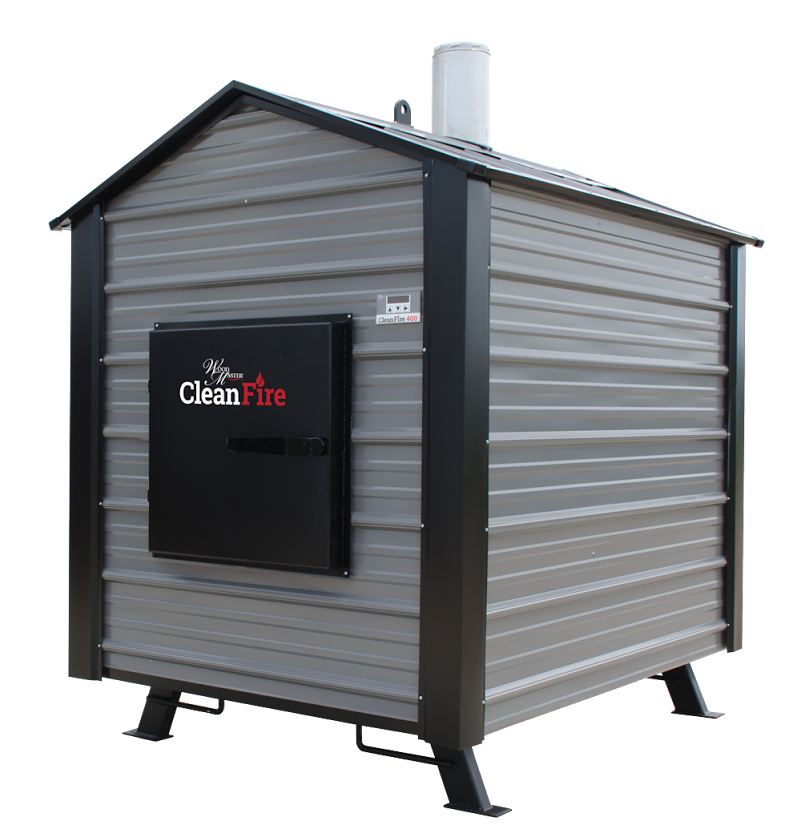 Burns hotter. Cleans easier. Lasts longer.
WoodMaster's CleanFire uses a dry fire chamber to provide hotter, more efficient heat that requires minimal effort to maintain.
No ceramics
No damaging corrosion
No creosote build-up
The primary boiler is a true low pressure ASME H stamped boiler. It keeps oxygen out of the system, preventing corrosion to the water vessel.  ASME certification ensures the use of the highest quality materials and workmanship resulting in a boiler life expectancy of 40 or 50 years.
All of it is run by the exclusive WoodMaster control board, which burns at the optimum rate to meet the heat load. No batch burning or quick cycling. The board uses more than 300 settings to maintain this furnace modulation, increasing efficiency.
---
Specifications
Fire Chamber: 28″L x 30″W (approx)
Door Size: 16.5″W x 19H" (approx)
Thickness: 8 gauge steel
Total Water Capacity: 55 gallons
Max BTU output: 102,400
Efficiency: 67.26% weighted, 73% efficiency on high burn
Emmissions: 0.07 LBS/MMBTU
Limited Lifetime Warranty
Shipping Weight: 2,885 lbs.
Heating area may vary depending on construction, insulation and climate.
Features
FEATURES
ASME certified pressurized vessel
Dry fire chamber
Minimal maintenance
Non-cycling, modulates for heat load
FUEL DOOR
Large fuel door for ease of filling.
Spring loaded door latch maintains pressure and ensures a tight seal.
Two part door, very insulated. Greatly reduces heat transfer to the outside.
DRY FIRE CHAMBER
Patent pending design
A dry fire chamber means no creosote build-up, no ash corrosion, and no need for ceramics.
Pre-heated combustion air.
Fire chamber made from 8 gauge steel,pressure vessels made from 1/4″ mild steel.
Very long lasting due to no creosote
Extremely easy maintenance, can be cleaned in a few minutes.
COMBUSTION PROCESS
Primary and secondary air ducts equipped with 2 dampers allow for optimal burn.
The remaining gasses leaving the combustion chamber are mixed with oxygen in the injection tube ensuring a complete combustion through the catalyst.
The catalyst temperatures are controlled to ensure clean combustion and longevity.
The heat is recovered in the heat exchanger, then exits the chimney.
The stack averages an optimal temperature to remain efficient, yet not condense. (approx. 240 degrees)
The CleanFire is equipped with a lambda sensor which monitors the oxygen levels and adjusts the boiler to maintain the optimal burn.
WOODMASTER CONTROL
The control is designed to read water temperature in and out, and adjust the boiler automatically to satisfy the heat load.
It adjusts the fan and primary and secondary air dampers based on heat load and water temp needed.
This is not a cycling boiler; it modulates for the heat load needed.
Ability to connect to WiFi, or basic internet, for in home monitoring or it can link to your smart phone.
Built in protection to keep the catalyst from overheating.
The control display- displays water temp, catalyst temp, O2 level, boiler pressure (max. 30 psi), lighting feature, allows for brief history of alarms.
Maintenance
Very minimal maintenance.
The heat exchanger tubes should only need to be cleaned twice a year.
The ash in the bottom chamber of the heat exchanger needs to be cleaned as needed, again, very minimal.
---